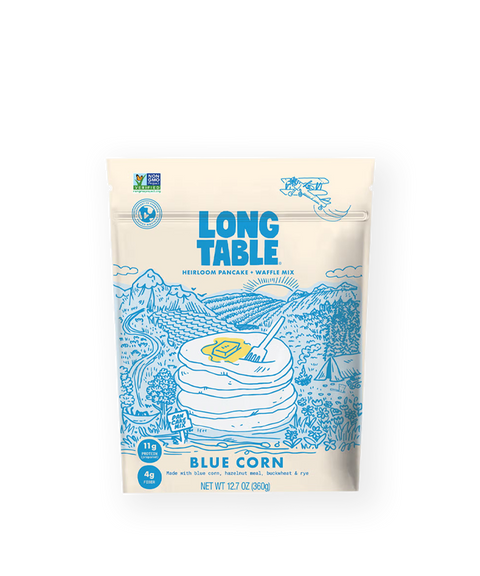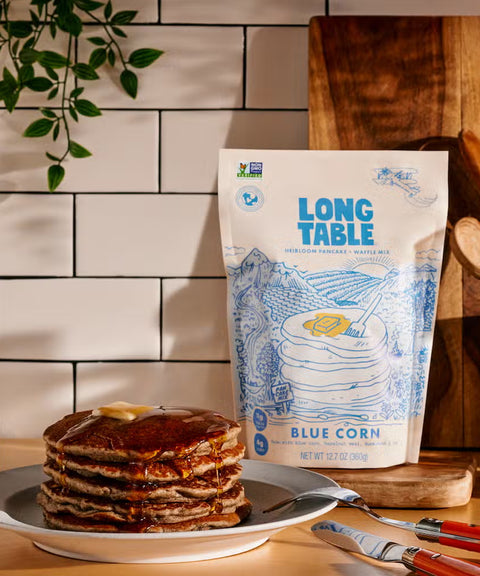 Long Table Pancakes
Blue Corn Pancake Mix
The popcorn ones may be the darling, but these are our fave. Earthy, nutty and corny (in a good way). Rye adds a peppery undertone, with a sweet and buttery hazelnut finish.
A local Chicago and farmer's market favorite, Long Table's mixes are made with stoneground, whole heritage grains. Packed with protein and long-lasting complex carbohydrates for a hearty breakfast that's as nutritious as it is delicious.
Loved by Sharks and humans.

Details
• 11g protein and 5g whole grain fiber per prepared serving
• Made from stone ground heirloom grains
• Local Chicago and farmer's market favorite
• 12.7oz
Ingredients
Organic Blue Cornmeal, Organic Rye Flour, Organic Buckwheat Flour, Hazelnut meal, Cane Sugar, Non-GMO Aluminum Free Baking Powder (Monocalcium Phosphate, Sodium Bicarbonate, Non-GMO Cornstarch), Sea Salt
Brand & Product
◯ Gluten-free
◉ Vegan
◉ Small batch
◉ Local / Midwest
◯ Imported
◯ BIPOC owned
◯ Female owned
◯ Mission driven