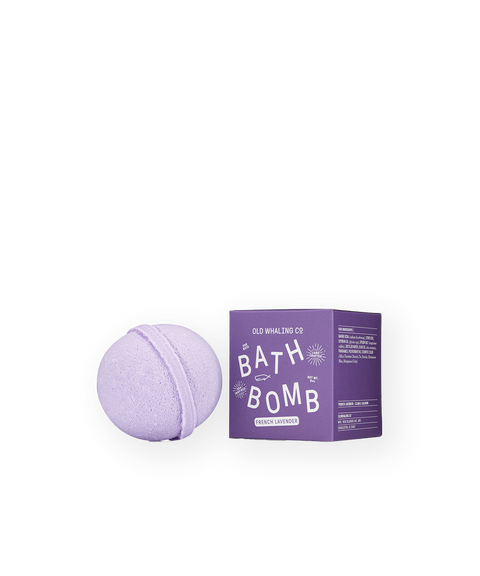 Old Whaling Co.
French Lavender Bath Bomb
A tranquil, floral blend with notes of mountain heather and wild rose. A favorite for inspiring sleep and serenity, this soothing scent is like a gentle breeze rolling through a meadow of wild lavender.

A family-owned brand based in Charleston, South Carolina, Old Whaling's products are all sulfate free, phthalate free, paraben free, mineral oil free, gluten free, and never tested on animals.
Details
• Top: Lavender, Mountain Heather, Rose
• Base: Lilac, Tonka, Orange Flower
• Handmade with baking soda, citric acid, epsom salts, olive, and soybean oil
• Soothing fizzy bomb perfect for a relaxing soak to rejuvenate the senses and cleanse the skin
• 2.75" round
Ingredients
Baking Soda, Citric Acid, Soybean Oil, Olive Oil, Epsom Salt, Distilled Water, Fragrance, Polysorbate 80, Cosmetic Color (Mica Titanium Dioxide, Tin Dioxide, Ultramarine Blue, Manganese Violet)
Brand & Product
◉ Vegan
◉ Small batch
◯ Local / Midwest
◯ Imported
◯ BIPOC owned
◉ Female owned
◯ Mission driven